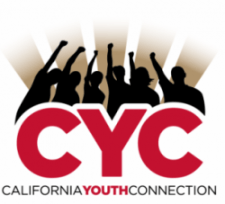 Locations Served
North County (Daly City, SSF, Colma, etc.), South County (Redwood City, East Palo Alto, etc.), Bayside/Mid County (San Mateo, Belmont, etc.), Coastside (Half Moon Bay, Pacifica, etc.)
---
Ages Served
22-24, 18-21, 14-17
---
Organization's Mission/Description
The mission of California Youth Connection (CYC), a youth-led organization, is to develop leaders who empower each other and their communities to transform the foster care system through legislative, policy, and practice change. Our vision is that all foster youth will be equal partners in contributing to all policies and decisions made in their lives. All youth in foster care will have their needs met and the support to grow into healthy and vibrant adults.
Any current or former foster youth between the ages of 14-24 is welcome to become a CYC member.  CYC defines a foster youth as someone living in out of home care such as in a foster home, group home, THPP, or in relative/kinship care.  A former foster youth is anyone who spent any time in the foster care system including those who emancipated from foster care, reunified with their family or were adopted.
The best way to get involved is to attend a CYC Chapter Meeting. Get information about a chapter in your area.
IF YOU ARE INTERESTED IN BECOMING A MEMBER, CONTACT THE REGIONAL COORDINATOR IN YOUR AREA:
FAR NORTHERN • Butte, Humboldt, Shasta, Tehama makayla@calyouthconn.org

NORTHERN REGIONS • Stanislaus, Yolo, Yuba Sutter, Sacramento jess@calyouthconn.org
 SF BAY AREA REGION • (NORTH) Alameda, San Mateo, San Francisco, Sonoma, Contra Costa miguel@calyouthconn.org • (SOUTH) Monterey, Santa Clara, Santa Cruz quijaij@calyouthconn.org
CENTRAL VALLEY REGION • Fresno, Kings, Madera, Merced, San Luis Obispo, Stanislaus blade@calyouthconn.org
LOS ANGELES REGION • Antelope Valley, Central, Long Beach, Pasadena, South kate@calyouthconn.org
SOUTHERN REGION • Orange, Riverside, San Bernardino, San Diego, Santa Barbara, Ventura kenneth@calyouthconn.org