Main Address
1021 South El Camino Real, Mid-County, California 94402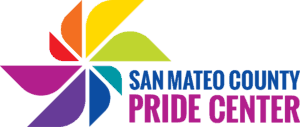 Locations Served
North County (Daly City, SSF, Colma, etc.), South County (Redwood City, East Palo Alto, etc.), Bayside/Mid County (San Mateo, Belmont, etc.), Coastside (Half Moon Bay, Pacifica, etc.)
---
Ages Served
25+, 22-24, 18-21, 14-17, 12-13, Under 12
---
Organization's Mission/Description
The San Mateo County Pride Center was born of the struggles and triumphs of the LGBTQ+ community over the years and stands for equity, inclusion, dignity, self-determination, and justice. Over a decade in the making, the Pride Center is the first ever LGBTQ+ community center in San Mateo County. Whether seeking behavioral health services or gathering in solidarity with others to share stories, build relationships, learn, grow, create, and heal together, LGBTQ+ individuals and communities throughout the Peninsula finally have a space to call their own!
OUR MISSION
Our mission is to create a welcoming, safe, inclusive, and affirming community climate that fosters personal growth, health, and opportunities to thrive for individuals of all ages, sexual orientations, and gender identities through education, counseling, advocacy, and support.
OUR VISION
Our vision is to create an innovative, respectful, and equitable community of all ages, ethnicities, cultures, sexual  orientations, and gender identities that supports complete inclusion, is free of discrimination, strives for knowledge, challenges barriers, and seeks to empower agents of social change.
OUR VALUES
Cultural Humility
We are committed to the everyday practice of Cultural Humility. The concept was coined by Doctors Melanie Tervalon and Jann Murray-Garcia (1998) to address health disparities and institutional inequities. Practicing cultural humility requires bravery, empathy and respect. Cultural Humility principles we strive towards include:
A lifelong process of critical self-reflection and self-critique
Redressing the power imbalances in the client-provider dynamic
Developing mutually beneficial partnerships with communities
Advocating for and maintaining institutional accountability
Empowerment
We empower the LGBT+ community through the collaborations we build and grow through our clients. We provide a safe space where people do not feel ashamed or unwanted, but, rather, have a sense of hope in their lives. We strive to destigmatize mental health and stop seeing it as a sign of weakness and more as a sign a strength. We support through education, resource connections and counseling at the Pride Center everyday to hope us grow as individuals and as a community — people that can proudly say that they are part of something that has flourished in the LGBTQ+ family.
Anti-Oppression
We understand anti-oppression to be the active work of building and empowering communities against the systems of oppression that cause harm. Through education, peer groups, and community building opportunities, we hope to build an alternative to the disempowering and harmful systems of power that lead to physical harm, imprisonment, homelessness, poverty and mental/emotional unwellness. Anti-oppression means working against: classism, racism, ableism, white supremacy, cis heterosexism, xenophobia, etc…that harm members of our community.
Growth
We are committed to prioritizing growth as a continual process of learning. Through continuous effort and struggle we value the flexibility to change and grow with our community. Our measurements of growth are not linear. Moments of growth often stem from conflict. It takes persistence and discipline exercised through time in order for growth to take shape. Growth can be an individual and communal experience; as a community space, we prioritize accountability and justice in our efforts.
Play / Creativity
Let's face it, having a work-life balance cannot be done without creativity. Whether this is balancing your work within the community, working on yourself, or working on keeping your life together, life can be hard. We strive to incorporate creativity in each of these areas as much as possible in order to better integrate creativity within our abundance of services. Creativity to the Pride Center means developing programs that reflect our desire to create a community that fosters positive relationships through expressive arts therapy, creative arts and crafts workshops, finding creative solutions in case management, creativity and play-centered support groups, and more.
Monday
10:00 am - 7:00 pm
Tuesday
10:00 am - 7:00 pm
Wednesday
10:00 am - 7:00 pm
Thursday
10:00 am - 7:00 pm
Friday
10:00 am - 9:00 pm